Through the eyes of a child
---
Shortlisted as a finalist for a national design award — The 2019 Dulux Colour Awards in the Commercial Interior: Public & Hospitality category — Perth Children's Hospital uses colour to create a welcoming, family-friendly environment.
Designed from the perspective of a child, Perth Children's Hospital (PCH) employs a playful design approach that uses colour and whimsy to reduce anxiety for patients and carers, and create a welcoming, family-friendly environment.
Everything has been considered from a child's viewpoint, with colour playing a key role in creating a 'wonderland' that minimises the stress associated with a hospital visit. Sills are lowered, artwork added to ceilings, medical equipment diminished in scale through colour and form, seating pods become places for play and edges are softened to minimise harmful corners.
New kid on the block
Opening in 2018, PCH is a new specialist paediatric hospital providing world-class health care to children and young people up to the age of 16. The new 298-bed facility also accommodates significant integrated medical research and educational facilities.
The hospital provides tertiary-level paediatric health services and secondary health services, including inpatient and outpatient care. It incorporates family facilities, operating theatres, mental health facilities, neonatal intensive care beds, staff amenities and retail space. A high-dependency unit for high-risk patients and greater capacity for new technology, such as intra-operative MRIs, are also accommodated. A helipad services the entire QEII Campus.
The new hospital replaces the Princess Margaret Hospital, which was over a century old. The design represents a huge iteration in what a children's hospital looks and feels like, providing a welcoming place that is de-institutionalised, fosters human connectivity and has links with nature. It provides the best possible clinical care while serving as the base for West Australia's outstanding paediatric research.
Holistic approach
The hospital was designed by JCY Architects and Urban Designers, Cox Architecture and Billard Leece Partnership with HKS Inc., and built by Managing Contractor John Holland. A project of this scale and complexity takes the contribution of thousands of people, including over 200 designers and services and engineering specialists.
From the outset, the design team worked from the same office and in close collaboration with the Managing Contractor, ensuring a holistic approach to delivering on the project's objectives and aspirations.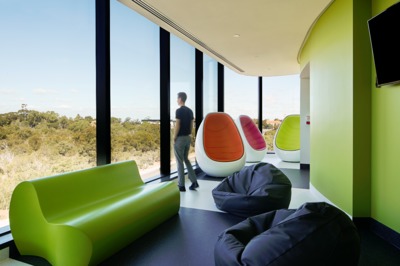 Inspiration behind the design
The architectural team took a child-centric approach to spatial planning and design, to fundamentally improve the hospital experience for all users — patients, families, carers and staff.
Using its distinctly West Australian natural surrounds as inspiration, the arrangement of the building references the form of a stem and petals. The site's location adjacent to the natural bushland of King's Park informs the colour palette, which alludes to the wildflowers that sweep through the state in Spring. Colour is used intensively in concentrated areas rather than broadly brushed throughout, acting as a wayfinding device and a method of distraction.
Everything has been considered from a child's viewpoint, with colour playing a key role in creating a 'wonderland' that minimises the stress associated with a hospital visit. The core values of the design come through the integration of artwork, interior design, way-finding and signage elements, all engaging children with the healing potential of nature and ensuring the hospital is child friendly and age appropriate.
Wherever possible, elements of colour create a "place of adventure" with other elements generating a "sense of wonder, humour and a magical experience".
Through the imaginative yet disciplined application of context-driven design principles, the PCH demonstrates excellence in user-centric design. A combination of spatial planning, technology, colour and materials has delivered a hospital that sets a benchmark for paediatric hospital architecture.
Playful environment
The atrium space at the heart of the hospital is a hive of activity and wonderment. It is easy to find the playful reception desk inside the main entry, designed so that there are no visual impediments preventing even the smallest of children from being seen. Light is reflected throughout the atrium space, with artist Stuart Green's mobile kinetic sculpture changing throughout the day. The undulating forms of the central space suggest a place of play rather than of illness.
The interiors are designed as a series of destinations, with bright colour and organic shapes marking prominent landmarks. Reception desks appear carved in a single, warped form. Seating pod areas are not just for seating, but for climbing and exploring. Geometric cut-outs mark the entry to each of the play therapy areas. Staff stations throughout are designed as treehouses.
Accessible, practical rooms
Over 75% of the patient rooms are single. Rooms are designed from the viewpoint of a child in their bed. From here, the child can see out the window, with many rooms offering vistas across Kings Park and to the Swan River. A family zone at the window has space for a parent to stay overnight and for siblings to play. Ensuite bathrooms allow families to use the space as they would a hotel.
Each room has a large TV that can also be used for games, for staying in touch with their friends via the internet and for doing homework. There is ample storage and provision for parents to read and charge devices while their child is sleeping. Planning is arranged so that staff don't need to traverse deep into the room to attend to medical equipment or the child; the family is not in the way, and equipment, when not in use, is discreetly hidden.
Through exemplary design that considers present and future needs, PCH will serve generations of Western Australian families and make life better through improved health and wellbeing.
All images credit: ©Shannon McGrath
---