HESTA Awards finalists revealed
---
Nine finalists have been announced for the 2021 HESTA Australian Nursing and Midwifery Awards, honouring the extraordinary work of nurses and midwives to protect their communities during the coronavirus pandemic.
Finalist achievements included leading the nursing team that responded to COVID-19 outbreak sites in Victoria; creating a personal protective equipment training program to support the aged-care workforce during the pandemic; and reducing pregnancy risk for Aboriginal and Torres Strait Islander women.
HESTA CEO Debby Blakey said she was humbled by the finalists' hard work and achievements, which highlighted the sector's critical importance during the pandemic and for our nation's economic recovery.
"Australia owes a great debt to our nurses and midwives," Blakey said. "They have done everything and more to keep our communities healthy, safe and supported during some of our darkest times — it's clear our nurses and midwives have an important role to play in creating a resilient and strong healthcare system, which is essential to our economic recovery post COVID.
"Congratulations and thank you to every single nominee and finalist for their leadership and dedication — we are so proud of you, and so proud that the HESTA team can help shine a spotlight on your achievements."
The widely recognised national awards, which have been running for 15 years, pay tribute to the contributions of Australia's nurses, midwives, nurse educators, researchers and personal care workers to improving health outcomes.
An independent judging panel, comprising sector representatives, reviewed hundreds of outstanding nominations to select finalists across the Nurse of the Year, Midwife of the Year and Outstanding Organisation categories.
Long-time awards supporter ME — the bank for you — has donated $30,000 in prize money to be split equally between the winners for professional development or to improve services or processes in the workplace.
ME CEO Adam Crane said the bank was thrilled to continue recognising the amazing efforts and achievements of these health professionals.
"We commend all of this year's finalists for their dedication and incredible hard work during challenging times," Crane said. "The healthcare system simply couldn't function without nurses, midwives and personal care workers and those who train them."
2021 finalists
Outstanding Organisation
Nursing and Midwifery Health Program Victoria
Nursing and Midwifery Health Program Victoria is recognised for its work supporting Victorian nurses, midwives, and student nurses and midwifes during the pandemic, including through telehealth sessions and the creation of COVID-specific health and wellbeing resources such as podcasts and self-care plans.
Monash University — Nursing and Midwifery
Monash Nursing and Midwifery is recognised for its work to deliver a training program developed by Monash and funded by Victoria's Department of Health on the effective application of personal protective equipment, specifically designed to support the Victorian aged-care workforce to stay protected and safe while at work during COVID.
Ramsay Health Care Australia
Ramsay Health Care Australia is recognised for its work to improve environmental sustainability across its facilities, including through cutting down greenhouse gas emissions and single-use plastics.
Nurse of the Year
Nicole Cummins: Infection Prevention Control Advice and Response unit, Victorian Department of Health
Nicole Cummins is recognised for her exceptional leadership of Victoria's COVID-19 rapid-response nursing team, which responded to outbreak sites including at Melbourne's public housing towers and aged-care facilities, and for helping improve infection prevention and control practices worldwide.
Raymond Chan: Queensland University of Technology and Princess Alexandra Hospital, Metro South Health
Professor Raymond Chan is recognised for his contribution to cancer nursing and supportive cancer care research and practice, including work that led to the widespread adoption of a novel silicone-based gel dressing to prevent and better manage radiation treatment side effects in cancer patients.
Shannon Philp: Chris O'Brien Lifehouse
Shannon Philp is recognised for her contribution to nursing education and patient-centred care, particularly for women with gynaecological cancers.
Simone Sheridan: Royal Melbourne Hospital
Simone Sheridan (right) with Ailsa Wild, author of The Care Factor.
Simone Sheridan is recognised for her work to improve education for nurses around managing family violence and sexual health issues, and to support health professionals in isolation due to COVID-19.
Midwife of the Year
Melanie Boulter: John Flynn Private Hospital
Melanie Boulter is recognised for giving exceptional care to families over her 20 years at John Flynn Private Hospital on the Gold Coast, including through her role in creating the hospital's Know My Midwife program that combines the midwifery and private medical care models to promote women-centred care.
Janelle Dillon: Bega Garnbirringu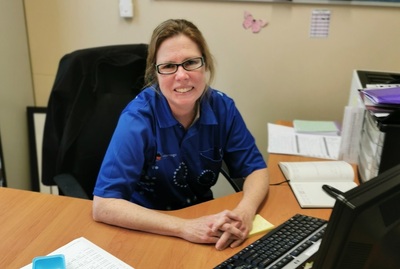 Janelle Dillon
Janelle Dillon is recognised for her tireless work to create a safe space for Aboriginal and Torres Strait Islander women to receive pregnancy care in Kalgoorlie, WA — work that has reduced pregnancy risk and potentially saved lives.
Winners will be revealed on 6 May 2021 in Melbourne.
Top image caption: Monash Nursing and Midwifery PPE team.