Perkins design packs a punch
---
The building design at Perth's Harry Perkins Institute of Medical Research takes its cues from the human body, with a central stairway twisting like a strand of DNA and revealing different activities on different levels.
The most remarkable architectural quality of the Harry Perkins Institute's main building is not just the eye-catching aesthetics. The innovative design, created to foster collaboration between researchers, is what really sets it apart from other similar structures.
Director Professor Peter Leedman says the building was designed to attract scientists to Perth and, once working here, to bring researchers from different areas together.
"We can achieve so much more in our work on cancers, cardiovascular disease, rare genetic disorders, diabetes and more when we collaborate on our discoveries.
"This building achieves that brilliantly," he said.
Located on the campus of one of Perth's largest public teaching hospitals, the Perkins is uniquely positioned to fast-track the development of new discoveries and treatments.
"Its wholly owned clinical trials facility, Linear Clinical Research, is situated both within the Perkins and within the adjacent Sir Charles Gairdner Hospital. Linear provides international and local pharmaceutical and biotechnology companies the facilities to trial latest drugs and treatments in healthy volunteers and cancer patients," Professor Leedman said.
According to Hames Sharley architect James Edwards, the Perkins' main building is a dramatic departure from typical laboratory designs. He said that traditionally, research buildings were designed as three-layered cakes with two layers of laboratories and one of offices.
"We became interested in whether that type of design really fostered good research," Edwards said.
Before putting pencil to paper, the Hames Sharley team carried out extensive research around Australia and overseas, finding the conventional designs have drawbacks.
"Research discoveries were often made due to 'happy accidents' and the traditional architectural approach just wasn't keeping up," he said.
"We proposed a radically different approach built around a central highly activated core, with the laboratories running north to south with natural light on two sides," he said.
"To walk between the offices and the laboratories, researchers have to move through the centre, which houses the meeting rooms, lunchrooms, lift, toilets and a striking DNA-inspired stairway that spirals up the core of the building's 10 storeys."
Supersized colour displays of researchers' work are projected on the walls around the stairway, highlighting the value of the research and sharing publications with other researchers.
Edwards said it was hoped that, as researchers encountered each other in these central spaces, relationships would build and ideas would be exchanged.
"Everything circulates from the core, like blood that is oxygenated and circulates around the body," he said.
Hames Sharley also created highly flexible open-plan work spaces, best suited to accommodate ongoing changes in research, with enclosed quiet spaces throughout the building for when concentration or privacy is needed.
"A common observation from staff is that it is a feelgood building. We designed the windows using the largest panes of glass the builder could transport. This gives very special quality plus exceptional views of the leafy surroundings," Edwards said.
International engineering consultancy Arup engaged more than a dozen Perth-based specialist engineers, together with colleagues from elsewhere in Australia and Britain, to ensure the structural, fire and geotechnical engineering involved in creating the new building embraced state-of-the-art technology and exceeded best-practice guidelines.
"The complexity of the structure, built to accommodate the highest international standards of scientific research, required specialist engineering skills and the procurement of innovative solutions to enable efficiencies of design," Arup's building leader for the project, Alistair Avern-Taplin, said.
"Our team was focused on supporting Hames Sharley to design this impressive building without restricting them from an engineering perspective, and the results for this five-star-rated facility speak for themselves."
With funding from Lotterywest, Hames Sharley and Freeman Ryan Design created three spectacular installations for the foyer to woo public interest. An electronic artwork showing colourfully stained cells is spread across 4 m-high digital banners within the double-storey entry foyer. Hundreds of slowly changing images have been used by multimedia technologists to show the splendour of the microscopic world.
At the western end of the foyer, outside the institute's public auditorium, is a single backlit membrane printed with oversized MRI scans of a male and female volunteer. A vertical beam of light travels the length of the installation, simulating the MRI scan and giving details of the organs it travels over.
"Its whirring and clicking noises recorded in hospitals and laboratories captivate everyone meeting in the foyer, from groups of students to members of the public.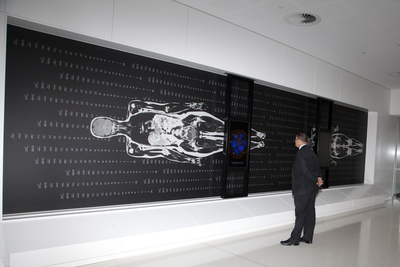 "At every level this building engages staff and visitors in the wonderful world of medical research," Professor Leedman said.
---