Wollongong Hospital finds solution to connect ICU patients with their families
---
Wollongong Hospital has worked with Cisco and two local Australian innovation partners to develop HowRU — a bespoke healthcare solution that uses video and collaboration technology to help families and ICU patients stay connected.
The solution was designed to address common technical, logistics and privacy issues that patients, families and staff were experiencing when connecting with video chat solutions not designed for the specific needs of hospital and ICU patients.
Wollongong Hospital worked closely with nurses, social workers, technology experts, patients and their families to develop a solution that would overcome the challenges that visitor limitations are placing upon ICU patients, as well as guarantee high levels of security and privacy.
Addressing the specific needs of COVID-19 patients and staff in ICUs
The COVID-19 pandemic has created enormous challenges for ICUs. To ensure patient, staff and public safety, visitors are greatly restricted and, at times, all visitation is prohibited. Limits on interstate and international travel have also reduced the ability of family members to be with their sick loved ones.
In the intensive care setting, where patients are often critically unwell, the absence of a family member at the bedside can be traumatic for both patient and families. Bearing witness to the negative consequences that the physical distance causes for such patients and families — and being unable to provide optimal patient-family-centred care — can also be distressing for ICU staff.
In an attempt to overcome visitor restrictions, a virtual alternative was needed to simulate flexible and open access to patients. Several off-the-shelf videoconferencing apps/platforms were explored; however, none of them in isolation were functional in the unique ICU environment where staff often have to operate videoconferencing on behalf of their unconscious patients. In particular, there was no simple way of creating private and secure spaces for families to connect and communicate.
Someone in the unit would usually be required to use their personal email or a generic account to send invites to the families for every single virtual meeting, staff would need to coordinate timings with all family members, and they would then be required to stay present during the virtual connection.
This added an extra burden for ICU staff already busy with heavy clinical workloads and responsibilities, and didn't allow for privacy or flexibility.
Wollongong Hospital quickly realised they needed a tailored solution — a holistic system that would overcome the barriers they encountered when using off-the-shelf apps, and would be designed with inbuilt support for families and staff to prevent technical glitches and help guide a family member to connect with their loved ones.
Automated connections, privacy and flexibility at the core of HowRU solution
Working in collaboration with technology adoption specialists Taleka and Citrus Health, and using Cisco Webex, Wollongong Hospital was able to design, test and implement a supported solution that was streamlined, easy to use and secure, with flexible and automated virtual connections between patients and their families.
HowRU has helped to reduce ICU staff's workload by enabling families to set up spaces with ease. To use the app, patients are given their own iPad on a stand and a unique, de-identified patient account.
The Automated Patient Creation function means the ICU staff simply enter the patient's name and the email addresses of family members that wish to be included. A secure account for the patient is created and verified, a family space is created, family members are invited by email to join the space, and a greeting message with a brief information video is posted to welcome the family. No further security steps are required and no individual meetings need to be scheduled. Once the families have downloaded the same app and accessed the family space, it can be opened for a video call by either the patient, ICU staff or family, with just a few simple taps, at any time. Once the space is open the ICU staff can then leave the room and allow the family private time with their loved one.
This innovative and secure system bypasses the time-consuming and complicated six-step process required by off-the-shelf video chat solutions.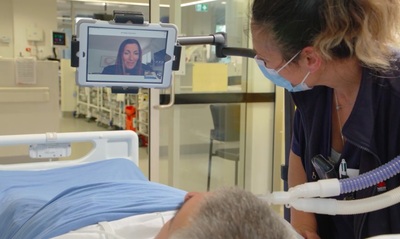 The bespoke healthcare solution at Wollongong Hospital uses video and collaboration technology to help families and ICU patients stay connected.
Impact of the technology
Kathleen Thomas, ICU Senior Registrar and COVID Coordination Committee member at Wollongong Hospital, explained, "There is no equal substitute for being able to offer physical comfort to a loved one who is critically ill; however, when visitor restrictions are in place during the COVID-19 pandemic, it is reassuring to know that we have an alternative that we can offer families and patients that most closely simulates our standard of visiting.
"HowRU aligns with our holistic code of conduct, ensuring patient and family privacy, dignity and security, while providing an open and flexible line of communication that can be adapted to the needs of each individual patient and family. Ultimately, we hope HowRU will minimise the traumatic impact that visitor restrictions can have on ICU patients, families and staff.
"The HowRU solution has transformed and humanised the way patients and families experience those ICU stays. The fact that families can connect at any time, with minimal input from nurses, has dramatically helped improve the patient care experience without increasing the staff workload."
Wollongong Hospital's Director of ICU, Al Davey-Quinn, shared the impact of the technology, and said that collaboration was integral to making the project such a success.
"Taleka worked directly with our ICU staff and patients' families to understand our current workflows and unique needs, then liaised with the Citrus Health team to apply the innovation to Cisco Webex and simplify those workflows using automation. This process was instrumental in making this solution work for the patients, their families and for our staff.
"The HowRU solution already had such a positive impact on patients, families and staff. It will continue to remain an ongoing feature of the Wollongong Hospital's ICU and play a key role in keeping families connected moving forward."
Cisco Vice President of Australia and New Zealand Ken Boal commented, "Wollongong Hospital has shown how technology can be an amazing enabler in supporting the patient experience in a highly sensitive and stressful environment, in particular when solutions are built in close collaboration with those on the frontline, caring for patients and connecting with family members.
"The challenges hospitals and health professionals face today is unprecedented, and it is absolutely vital that technology providers support the application of technology in these environments, with the ability to develop and build industry-relevant solutions that can help improve patient care, keep families connected and support medical staff," Boal said.
---