Sponsored
Meal delivery Systems that adapt to the changing dynamic in Health and Aged Care.
---
Moffat's reputation in the Healthcare market has been well earned. The Company's success in this market sector has come about due to the focus this market receives. Moffat has a healthcare division made up of a dedicated team of people experienced in the logistic challenges and day to day operations within this sector. Their brief is to supply what the customer needs and wants and to support that customer after the sale and beyond.
This personal focus when matched to a stable of traditional and innovative products affords the customer a diverse choice of meal delivery systems and operational procedures from:
Hospital tray assembly systems - traditional belt lines to smaller assembly stations using single individual operators in an ergonomic model called Blean.
Traditional passive meal temperature maintenance systems from Aladdin Temp-Rite, such as insulated tray ware and plate covers.
New active temperature maintenance options for both individual meals such as Heat on Demand and ready Chill from Aladdin Temp-Rite, to bulk (multi portion) food temperature retention for both hot and cold foods from SDX Thermobox.
Meal delivery equipment for the Cook-Serve, Cook-Chill or Cook-Freeze operator. From single tray systems to multiportion trolleys with on board technology that records all operational events and can offer semi automation such as automatic turn on and program activation, from Burlodge.
Our Brands
Aladdin Temp-Rite
A leader in the international market place for over 30 years Aladdin Temp-Rite and Moffat have built a strong reputation in being able to offer solutions for meal delivery and presentation. Aladdin has developed solutions for every food service application. And with a strong concentration on research and development is able to keep pace with the industry ever changing demands. The latest offering from Aladdin is the new Heat on Demand plate base activator: a 10 Kilowatt induction activator that can heat the special base in 12 seconds. This base when used in conjunction with the insulated plate cover can maintain the hot food portions for in excess of one hour, couple this with the Aladdin Ready-Chill base and cover and cold food can be maintained as well on the same tray.
While getting a hot and cold presentable meal is paramount we need to also address the issues associated with meal assembly and equipment storage, these issues can also be addressed with the Aladdin Supply solutions range of equipment. Items such as Bain Marie, cold wells, air curtain refrigerators, plating line conveyors, starter stations as well as tray, bowl, plate and plate cover storage equipment.
For the full range of Aladdin Temp-Rite solutions visit www.moffat.com.au/brands/aladdin-temp-rite
Burlodge
An international manufacturer that specialises in meal delivery equipment for: Hospitals, Prisons, aged care facilities and schools. With reputation for innovation, development, service and operational support.
The Moffat-Burlodge reputation is well established here in Australia. The key is the versatility of the equipment which can satisfy the needs of the Cook-Serve, Cook –Chill or Cook-Freeze operator. The equipment is built to give value for money over the long term and is constantly being improved via the heavy investment the company has in research and development. It is this very investment that enables us to be the number one meal delivery equipment brand in Australia.
With several different models for tray service and multi portion (bulk) meal delivery, finding the best fit for the customer needs is made easier with very little compromise. From large hospital delivery systems that are AGV (Automatic guided vehicles) compatible to the smaller multi-purpose aged care centres we are able to offer value in both the equipment and support.
For more information and the full range of products go to: www.moffat.com.au/brands/burlodge
SDX Thermobox
A Swedish manufacturer that specialises in equipment for temperature retention of food both hot and cold in mobile trolleys. Simplicity is the foundation of this company's success. The Moffat-SDX Thermobox has again been a successful partnership and delivers uncomplicated solution for food transport for both large and small facilities alike. From Meals On Wheels transport boxes to Major banquet carts used by the Hotel industry the SDX offering can contribute to our customers food transport and safety requirement.
Simple one touch controls with digital temperature display, the seamless internal stainless steel pressed tray guides allows cleaning to be as uncomplicated as possible. With CFC free foam injected insulation and solid base frame this product is built to last.
As with all the Moffat brands research and development play a key role in our ability to keep pace with the industry requirement, and SDX is no exception, we can if required have tailor made transport boxes manufactured to meet a specific need. Which is not as uncommon as one might think, we often have requests for specific configurations to address a particular logistic challenge.
For more information and the full range of products go to www.moffat.com.au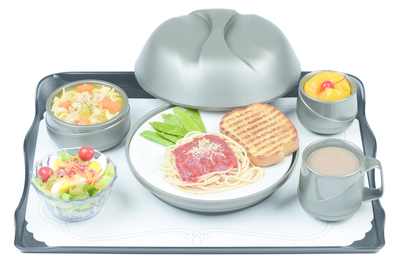 Related Sponsored Contents
A thorough understanding of the TOE ultrasound probe and how it should be reprocessed is critical.
With the spread of COVID-19, it is critical that high-touch surfaces are cleaned and disinfected...
Professional battery brand Procell has developed a new range of professional batteries with...
---