When a basin becomes the difference between life and death
---
In June 2020, five babies at Flinders Medical Centre Neonatal Unit were infected with a rare bacteria — serratia marcescens — which can cause meningitis and other conditions such as urinary and respiratory infections. The outbreak was linked to a hand basin in the neonatal room, where a swab from the drain tested positive for the bacteria.
A 2017 study published in Applied and Environmental Microbiology used a designated handwashing sink lab gallery to model dispersion of bacteria — in this case green fluorescent protein (GFP)-expressing Escherichia coli — from sink wastewater to the surrounding environment. Examining the mechanism of bacteria dispersal demonstrated that bacterial transmission can occur via connections in wastewater plumbing to neighbouring sinks.
Dispersion of bacteria was investigated in three experiments to test whether live organisms in a sink's P-trap could be dispersed by running water. ∼1010 CFU/mL GFP-expressing E. coli in saline was added to an autoclaved P-trap and fitted into a preautoclaved drain line.
The researchers discovered that when GFP-expressing E. coli cells were allowed to mature in the P-trap under conditions similar to those in a hospital environment, a biofilm extended upwards over seven days to reach the strainer. This led to droplet dispersion when the faucet was turned on. The study authors express their concern of "an increasing number of reports implicating Gamma-proteobacteria as often carrying genes of drug resistance from colonised sink traps to vulnerable hospitalised patients".1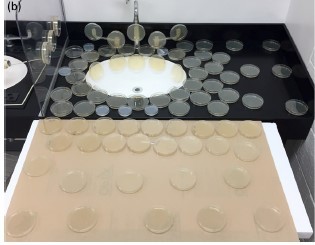 Image caption: Figure 1 (a) Layout of the zones of the sink counter, bowl, and extension surface designated to monitor droplet dispersion and (b) layout of the TSA plates used for GFP-expressing E. coli droplet dispersion on the surface.
Taps discharging into or nearby wastes transfers bacteria and biofilm, undoing the whole benefit of a handwash and causing hazardous situations around the bowl area. A rear offset waste ensures taps will not discharge into a waste, and that spray pattern from handwash will not aerosol bacteria and biofilms from inside waste.
Australian-owned company Gentec Australia has launched a range of healthcare basins specifically designed to prevent infections by offsetting the drain hole. The patented design prevents biofilm and bacteria aerosol as well as splashback from the waste during handwashing. The basins are designed to improve infection control, with: rear offset waste to eliminate aerosol from taps and spray pattern from a handwash; seal installation to eliminate bacteria creep into basins; antimicrobial technology; and sloped surfaces to prevent bacteria growth in stagnant water.
These solutions are designed to prevent infectious diseases spreading from hospital staff to other staff and patients.
Reference
1. Kotay, S., Chai, W., Guilford, W., Barry, K. and Mathers, A., 2017. Spread from the Sink to the Patient: In Situ Study Using Green Fluorescent Protein (GFP)-Expressing Escherichia coli To Model Bacterial Dispersion from Hand-Washing Sink-Trap Reservoirs. Applied and Environmental Microbiology, 83(8). Creative commons 4.0 license
Main image credit: ©stock.adobe.com/au/rcfotostock
---