In Conversation with Anna Peeters
---
In Conversation provides a glimpse into the life of an 'outlier' — an exceptional person going above and beyond to improve outcomes in their field.
The majority of the global population, nearly four billion people, will be overweight or living with obesity by 2035 if current trends prevail, according to the World Obesity Federation's latest World Obesity Atlas (WOA).
Australia has a global preparedness ranking of 24 out of 183 according to the WOA, but almost half of the country's adults (47%) will be living with obesity by 2035.
Prevalence of obesity is rising more rapidly among children than adults, with rates expected to double among boys to 208 million (100% increase) and more than double among girls to 175 million (125% increase).
Organisations around the world are calling for national and global policy changes to tackle the root cause of this growing public health challenge. Closer to home, Anna Peeters, Director of the Institute for Health Transformation (IHT), Professor of Epidemiology and Equity in Public Health at Deakin University and recipient of the World Obesity Federation Andre Mayer Award (2014) is passionately working to improve monitoring and prevention, as well to transform health systems and the environments to enhance health and wellbeing for all.
Childhood obesity is expected to more than double by 2035. Where do you think Australia stands when it comes to prevention and management?
Australia needs urgent action on obesity to reduce the burden that arises for individuals and society.
Not only do we have a high prevalence of overweight and obesity in children, adolescents and adults but we also have substantial inequalities in obesity, with those Australians living with greatest disadvantage also experiencing the highest levels of obesity.
There is a major opportunity in Australia to implement more obesity prevention and management strategies, and to ensure access for those who need it most.
What are your thoughts on the National Obesity Strategy 2022–2032? Could you highlight three key barriers to change?
The National Obesity Strategy represents the opportunity I alluded to above.
If we can implement the National Obesity Strategy in its entirety we will have a chance to turn around the obesity epidemic, and reduce associated inequalities in health outcomes.
Obesity prevention and management are seen as complex, as obesity is associated with multiple risk factors and has multiple different health consequences.
There is also stigma associated with obesity prevention and management, which needs to be addressed to ensure that all health professionals can play their part in managing obesity.
To address these challenges strong political and social will is required. It would be ideal to see our national leaders, political and civil, calling for immediate and comprehensive implementation of the National Obesity Strategy.
How can we improve healthcare delivery and outcomes?
At present healthcare delivery is quite fragmented in Australia. Addressing chronic conditions like obesity requires a more joined-up system that can treat the whole person over their lifetime.
Together with the proliferation of information, this fragmentation means we need to focus on how best to ensure individuals and their carers can access the most appropriate information, prevention and management strategies when and where they need them.
You've been leading the IHT since its launch in 2019. What brought you to be involved in the initiative?
I am passionate about bringing together the partnerships and methods to solve important and complex problems.
The Institute provides the opportunity to do exactly that through bringing together the expertise of more than 200 researchers in the areas of determinants of health, obesity prevention, health economics, quality and patient safety, and the behavioural and psychological aspects of diabetes to address our health system's most complex challenges.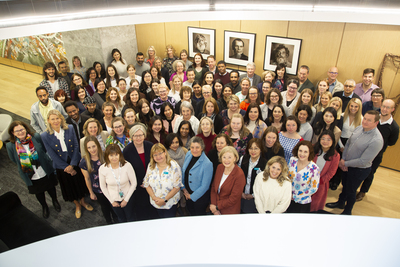 Anna Peeters with her team of researchers at the Institute for Health Transformation.
Tell us more about your current focus and goals for the next 12–24 months
The Institute integrates research and translation across the continuum of prevention and care, with themes around healthy populations and communities, and health service delivery and design.
At its heart, the work of the Institute is focused on the principle that health shouldn't be hard.  Our industry–academic partnerships, such as our network with six private and public health services and our longstanding partnerships with Cancer Council Victoria and Diabetes Victoria, make IHT the partner of choice for public health and health systems research, creating local impact that makes a difference in communities everywhere.
In the coming 12–24 months, recognising the stresses of the pandemic, we have a strong focus on improving the equity of health outcomes across our communities, and boosting the experience of our early- and mid-career researchers. Our aim is for our research outcomes to make better health and wellbeing easier for everyone to achieve, now and in the future.
Top image caption: Anna Peeters, Professor of Epidemiology and Equity in Public Health and Director of the Institute for Health Transformation (IHT) at Deakin University.
---