Hear your way
---
Today, most people take for granted their ability to easily make calls or listen to music on their mobile phones. But for the hearing impaired, this has never been simple — until now.
Cochlear, known for its famous implants, has created a new Made for iPhone cochlear implant sound processor that allows wearers to stream calls and music directly from their iPhone to their implant.
Experiencing hearing loss
Hearing loss is often not thought of as a debilitating health issue. However, unaddressed it can impact all aspects of life, from the development of speech and language to education, career and social interaction.1 For children, early intervention is crucial so that they can develop oral communication and sound detection skills at the same rate as hearing children. In adulthood, hearing loss is associated with depression, dementia and increased risk of poor health, as well as greater unemployment.2
Unlike hearing aids, cochlear implants don't just make sounds louder, they stimulate the hearing nerves directly, providing access to higher quality, more detailed sound at close to normal levels. The benefits of cochlear implantation include greater speech recognition, less reliance on lip reading, greater ability to carry out a conversation through background noise, better clarity of speech, improved communication, increased quality of life and relationships, greater independence and a fulfilling social life.
Technology making a difference
Thanks to a collaboration between Cochlear engineers and Apple, people living with severe to profound hearing loss can now stream sound directly from a compatible iPhone, iPad and iPod touch to the new Cochlear sound processor,3–6 which connects to their implant using low-power Bluetooth technology. They can make phone calls, listen to music in high-quality stereo sound, watch videos and make FaceTime calls. Alternatively, they can stream phone calls and music from an Android smartphone or tablet with the Cochlear Wireless Phone Clip.
Julia Sattout, age 45, has been living with profound hearing loss since her early 20s. Her journey with severe hearing loss peaked in the prime of her career, significantly reducing her ability to foster and maintain client and business relationships. Instead, it saw her confidence severely impacted, withdrawing from busy environments, avoiding using the phone, avoiding client meetings and being reliant on controlling her hearing through a combination of hearing aids and strategies.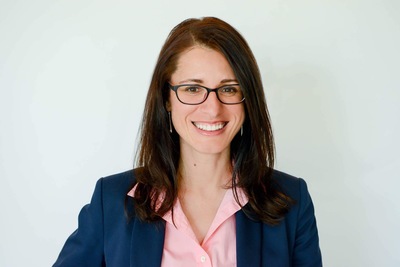 Julia Sattout. Image ©Cochlear.
Since having the Cochlear Nucleus 7 sound processor implanted, Julia's life has been transformed.
"I have spent many years searching for a solution which would allow me to use the phone. This is the first technology that has provided the ease of use and clarity required to confidently make and receive calls. Being able to stream has reconnected me to the world in ways I didn't expect — I have been able listen to music again, I have started listening to podcasts for the first time, I stream the radio to and from work in the car and I have even resumed language studies via Skype," Julia said.
After more than five years of not using the phone at work, she is now able to confidently make calls with ease. "It's had a tremendous impact on my ability to be productive and on my enjoyment of work," she said.
Making a difference
Cochlear collaborates with expert hearing care partners such as the SCIC Cochlear Implant Program to help more than 450,000 people around the world of all ages reconnect. With the availability of the Nucleus 7 sound processor, the SCIC Cochlear Implant Program and Cochlear can address important needs for people with hearing loss and make a real difference to how Australians with a cochlear implant manage their hearing.
The connectivity, monitoring and accessibility not only helps people with the day-to-day management of their hearing, it also enables them to interact with friends, family and technology to live their life to the full.
*Colleen Psarros is Clinical Strategy and Professional Development Manager for the SCIC Cochlear Implant Program. Image ©Cochlear.
Top image: an illustration of how the sound processor works. Image ©Cochlear.
References
1. World Health Organization. Factsheet Deafness and Hearing Loss [Internet]. Updated February 2017 [cited June 2017]. Available from: http://www.who.int/mediacentre/factsheets/fs300/en/
2. The Ear Foundation. Adult Cochlear Implantation: Evidence and experience / The Case for a Review of Provision. Available at: www.earfoundation.org.uk
3. Mauger SJ, Warren C, Knight M, Goorevich M, Nel E. Clinical evaluation of the Nucleus 6 cochlear implant system: performance improvements with SmartSound iQ. International Journal of Audiology. 2014, Aug; 53(8): 564-576. [Sponsored by Cochlear].
4. Cochlear Limited. 592753. Nucleus 7 Sound Processor User Guide 2017. Data on file.
5. Cochlear Limited. D719021. Nucleus Smart App User Guide 2017. Data on file.
6. The Nucleus 7 Sound Processor is compatible with iPhone 8, iPhone 8 Plus, iPhone 7 Plus, iPhone 7, iPhone 6s Plus, iPhone 6s, iPhone 6 Plus, iPhone 6, iPhone SE, iPhone 5s, iPhone 5c, iPhone 5, iPad Pro (12.9″), iPad Pro (9.7″), iPad Air 2, iPad Air, iPad mini 4, iPad mini 3, iPad mini 2, iPad mini, iPad (4th generation), iPod touch (6th generation) and iPod touch (5th generation) using iOS 11.0 or later. The Nucleus Smart App is compatible with iPhone 5 (or later) and iPod 6th generation devices (or later) running iOS 11.0 or later.
---